No more wimpy factory barrel!
No more 4 inch groups!
MATCH GRADE ACCURACY!
Capable of Sub- MOA accuracy @ 100 yards with factory ammo
---
Subj: Shooting results Remington 750 Free Float Forearm.
4/25/2012
Hello from NC did finally get a chance to test out the new rigid front forearm for my new Remington 750. The results were amazing. With out the solid forearm it would shoot about in a 1 foot circle, you could cover the groupings with a basket ball. Now with the new forearm is shoots 1 inch or better all day long. It took awhile to get the scope to get even close to hitting the paper. I had to install paper and more paper spacers under the scope to get in to bring the shoots up. I have ordered a Burris set of .020 spacers for the Burris Signature rings and hope this allows me to take the paper shims out. Have you run into this problem before? If so what is your solution?
All and all I am thrilled with the forearm, and I will send pictures of the grouping as soon as I get the new shims from Burris and get them installed and head back to the range.
I totally believe that the gun will shoot ½ to ¾ inch groups all day long. And they said the Remington 750 won't shoot, also never had a jam or any malfunction as of yet.
Will be back in touch with more info
John
ajobx2@gmail.com
---
1/27/2012
Sir,
Received my 7600 trigger. Much better than the factory. Have not shot it, but dry fired and I am impressed. I have two more 7600 triggers I plan to send to you for the same treatment.
Thank you,
Wayne Sears
searsmaw@bellsouth.net
---
PRICES SUBJECT TO CHANGE WITH OUT NOTICE!
Remington 750, 7400 & 7600 Accuracy Packages.
The Most Accuracy Available for the Model 750, 7400 & 7600 Rifles.
Accuracy Package #1 Installed on your Rifle Includes A) Thru H):
Harmonic Barrel Stabilizer with Integral Linear Muzzle Brake Package:
A)
Balances the harmonics created by the bullet passing through the thinner factory barrel.
Stabilizing the bullets flight.
B)
The integral Linear muzzle brake
reduces the felt recoil by about 25% while not adding any extra noise to the shooter or those around Him or Her. The muzzle blast is directed forward.
C)
The stabilizer body
acts as a heat sink removing heat from the barrel and sinking it across the length of the stabilizers surface.
D)
The stabilizer gives the appearance of the heavier bull barrel and the effect but not the added weight.
E)
We also
re crown the barrels muzzle
with an 11 degree target crown when installing the barrel stabilizer and check the barrel for trueness.
F)
We also add the Free Float Forearm which removes the pressure from the barrel by replacing the ridged factor y hand guard which is bolted to the barrel (which as most of us know is not advantageous to the accuracy of any barrel.) This option alone makes a big difference in the accuracy of these Remington rifles. The free float forearm is made of high grade aluminum and is hard anodized for strength. It includes two swivel studs one for a bi pod the other for your sling. You can have the Half Top Rail for those using larger objective scopes or the
Full Top Rail
for those wanting more optic options.
G)
A 3.5lb Trigger job
shortens take up, Removes creep, Lightens trigger pull and includes a over travel take up screw.
H)
This is the Cadillac package and your rifle will shoot unbelievably better!! Our satisfied customers are our proof!
Sub-MOA capable.
Available in Matte Black or Satin Gray (Shown above).
Package Price You supply the Rifle $769.99 If we supply the rifle $1499.99
Adjustable Spanner Wrench For Barrel Stabilizer & Quiet Brake Removal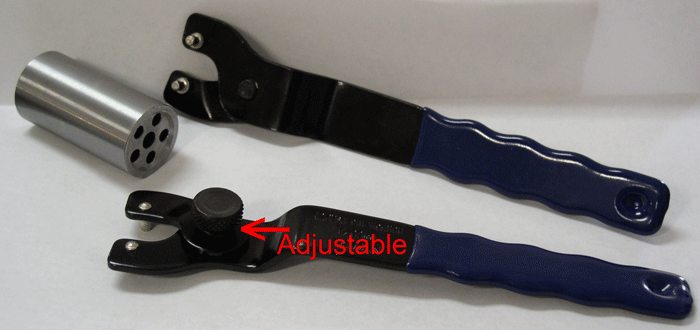 You asked for the tool and we now have it.
$32.99
---
ASI Free Float Forend for the following Factory Barrel models:
7400, 7600 or 750
Your Choice of ½ rail or full rail.
We also offer the Free Float Forend (Patent Pending) for the factory barrel for those of you who do not want a barrel change out but just an accuracy improvement. Bi-Pod & Sling swivel acceptable. Offered in Matte Black or Matte Silver. *Easy to install yourself!
12/16/2007
G'day Carl and the Crew at Accuracy,
Full length 7400 / 7600 Full rail arrived today, thanks again I am very happy, hope you guys get some time off these holidays.
Thanks for supplying me with an awesome piece of equipment hope too and look forward to dealing with you guys in the new year.
Have a very merry and safe Christmas all,
Kind regards,
Anthony Reid
Sydney Australia.
PRICE $239.99 Order # 501
Your Choice of ½ rail or full rail.
---
NEW 7400 & 750 RIFLE PACKAGES
---

SHOWN WITH SCOPE ON ½ RAIL.
Remington 7400 or 750 Factory Rife With ASI Enhanced Accuracy Package
30.06 Rem., 22" x .650", Matte Black barrel.
Black stock,

½ or Full Rail Free Float Forearm

& Bipod studs.
3.5 pound two stage trigger. Will shoot better than factory accuracy.
*Available in most calibers. Accessories are available.
ORDER # 503 PRICE $1029.99

742 / 7400 / 750 Free Floating Forearms
UNEQUALED ACCURACY IMPROVEMENT PERIOD!
Free Floats the barrel to remove pressure points which effect the barrel's harmonics.
These forearms will close your group size in most rifles drastically, Assuming that your barrel is not shot out.
Machined from 6061 Aluminum Alloy then hard anodized for superior rigidity unlike cheap plastic forearms.
These forearms allow for the most important part of the rifle, which is to mount the optics securely to a solid base.
We have redesigned and added from our previous model more lightning cuts which reduce weight for a better balanced rifle.
We have added more attachment points to the bottom and both sides of the forearm for accessory rails, sling swivel studs and bi pods.
Comes in a standard Overall length of 15.5" that is long enough to cover the factory gas block.
Top rail's come in two lengths which are integrated and machined into the forearm as one complete part for strength.
The Full top rail is 15.5" for those who need more room for night vision scopes, Flip up open sights and more.
The Half top rail is 7 3/8" long and sets 1/2" higher than the stepped down portion of the forearm's top. This allow's for more clearance for the front objective of scopes.
Comes with two swivel studs. One for the Bi-pod and one for the sling to attach to.
Includes: One Allen wrench, 4 mounting screws and one rear trim screw for elevation adjustments.
Easy 10 Minute Installation!
**NOTE: The model 742 will require some minor fitting. It is very easy for the do it yourself type of person.
---



∧

Top View of half rail below

∨




ORDER NUMBER 745-HR-FF
---
| | |
| --- | --- |
| As shown above with 2" right & Left front side rails and 4" bottom rail. | ORDER NUMBER 745HR-2-4 |
---
| | |
| --- | --- |
| As shown above with 4" right & Left front side rails and 6" bottom rail. | ORDER NUMBER 745HR-4-6 |
---



∧

Top View of Full rail below

∨




ORDER NUMBER 745FR-FF
---
| | |
| --- | --- |
| As shown above with 2" right & Left front side rails and 4" bottom rail. | ORDER NUMBER 745FR-2-4 |
---
| | |
| --- | --- |
| As shown above with 4" right & Left front side rails and 6" bottom rail. | ORDER NUMBER 745FR-4-6 |